Once upon a time, before Herosmyth had even opened our doors, a past client reached out with a problem.
That client was Jennie Lou Tucker, whom Herosmyth's Founder Chad Coleman had helped reach the top of Google search results for her live wedding painting business. Jennie's husband, Ashton Tucker, had recently bought Artscapes Landscape & Design  from a small business owner who started the company back in the 90s. Instead of starting it from square one, Tucker looked forward to getting a head start on business ownership by gaining the assets from the company including the contact list database he could work off of. What he found was a box of handwritten notes with ineligible contact information on them. He wasn't quite sure what to do until he was finally connected with Herosmyth.
In this case study we will provide an overview the collaboration between Artscapes Landscape & Design, a local business out of Littleton Colorado, and their successful marketing partnership with Herosmyth. The article will discuss the expedited marketing journey Artscape's went through that guided them to land the ideal clientele they have today with the help of Herosmyth's expertise.
When they first met, Tucker initially wanted to focus on what the business had done in the past — lawn maintenance along with commercial landscaping. But with no true list of clientele to go from, he had to rebuild this idea from scratch. There were many marketing options to choose from that could have been executed but would have taken a longer time to build especially since the target audience had not been narrowed down yet. Without a target market specified, any sort of marketing wouldn't work. After all — if you're marketing to everyone, you're marketing to no one. 
After their initial meeting in 2018, Chad realized the quickest path to getting Ashton's business in front of potential customers would be to start with Google search ads. There are few short cuts in marketing, but Google search ads, with its ability bid on keywords people are actually searching for, creates an opportunity to get customers quickly. Based on the services Artscapes was known for in the past, the Herosmyth team dove into an extensive keyword research process. Identifying what searches potential customers were actually Googling. Then working with Ashton to pinpoint what makes Artscapes different than its competitors, we created compelling ads for all of Artscapes service areas.
In the first year, they were able to generate a few hundred thousands in revenue starting with basically no customer base — almost entirely from Google Ads. 
While most marketing agencies would be satisfied with these results, the Herosmyth team continued to work closely with Ashton to uncover more opportunities for Artscapes to grow.
Like all great businesses Artscapes evolved, as Ashton discovered where his team's talents really shined — creating phenomenal Outdoor Living Spaces.  Considering this revelation, the Herosmyth team realized it was time to adapt as well. Consumers looking for outdoor living spaces are quite different than people looking for lawn maintenance. Herosmyth jumped into action and reshaped their Google Ads campaigns to reflect Artscapes new ideal customers.
The new campaigns focused in on who would want those exact outdoor living spaces, continually honing the ad copy and ad targeting on the Google Ads platform to get in front of the right potential customers, at the right time. Before long the results started rolling in, the click through rates on the ads were amazing, often in the 18 to 20 percent range. That means nearly 20% of people who saw an Artscapes ad, clicked the ad, considering industry standard click through rates average about 2% Ashton and the Artscapes team was thrilled.
However, the never-satisfied Herosmyth team knew there was more room for growth — more room for bigger and better projects for Artscapes.
A luxury audience needed a luxury website experience.
When Ashton purchased the business, he had invested a considerable amount, so like a lot of new business owners he took help from wherever he could get it. So when his artistically talented sister offered to create the companies first website, he took her up on the offer. However, as Artscapes grew and evolved,  they began to outgrow their initial website.
Several aspects of their first website were limiting the company's potential growth. It was a template website for a company that produces some of the most beautiful and unique outdoor living spaces, a website template just wasn't doing their work justice because ti was difficult to update. When you do amazing work you want a website that you can easily update so your potential customers are always seeing your best projects. Lastly, their first website wasn't search engine friendly, with a huge template code base,  the website loaded slowly, limiting its search engine visibility. 
Herosmyth took the initiative to redesign their website halfway through 2021 helping them become a multi-million dollar business by the end of the year. 
The new website design was focused around the idea of creating a high-end website experience for customers looking for luxury outdoor living experiences. It was a perfect match. The leads began to come in at a rapid pace, but perhaps more importantly — the kind of leads they started getting were a better fit for Artscapes tremendous work. 
In addition to the improvements to the look and feel, the new website was easy to update. Empowering the team at Herosmyth to create focused landing pages for our ads, and easily update the sites photo galleries with Artscapes latest projects. Furthermore, with their deep experience in search engine optimization, the Herosmyth team built the website from the ground up, with search engines in mind. Helping Artscpaes to reach top 5 positions on the first page of Google's search results for several of their keyword terms, like "outdoor living spaces in Denver Colorado". Helping Artscapes land even more projects from ideal customers.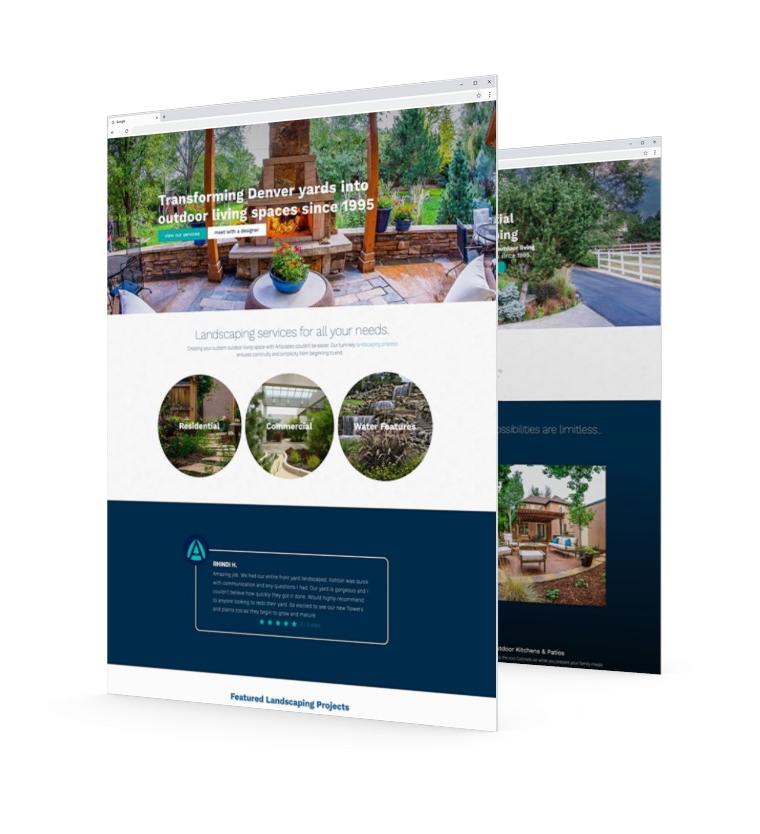 In conclusion
Small business owners are busy tending to all the moving parts of their business, understandably marketing can easily get lost in the shuffle. While large companies can afford to hire an entire marketing department, most small businesses simply can't —  that's why we created Herosmyth, the small business marketing agency. Being a small business owner is one of the most challenging endeavors one can embark on — in fact we believe it's heroic.  That's why our mission is to empower small business owners with marketing that helps them create thriving companies.