Owning a business is a daunting, exhilarating, intimidating, rewarding adventure.
Let's face it: it takes more planning, capital, and passion than can be realistically foreseen by anyone, no matter how business-savvy one may be.
Every business owner wants to nourish their "baby" (read: business) in the best way possible, so while having a custom-designed website would produce the most benefits for your business, it might not be a good fit for a startup because of financial limitations.
On the other hand, a long-established, mature business could dent their image by having a cheap, template-based website that screams "beginner" - even though they're not.
It's exceedingly important, therefore, to figure out what stage of life your business is in and match it with the right website plan in order to make your branding clear and professional - without becoming broke or selling yourself short.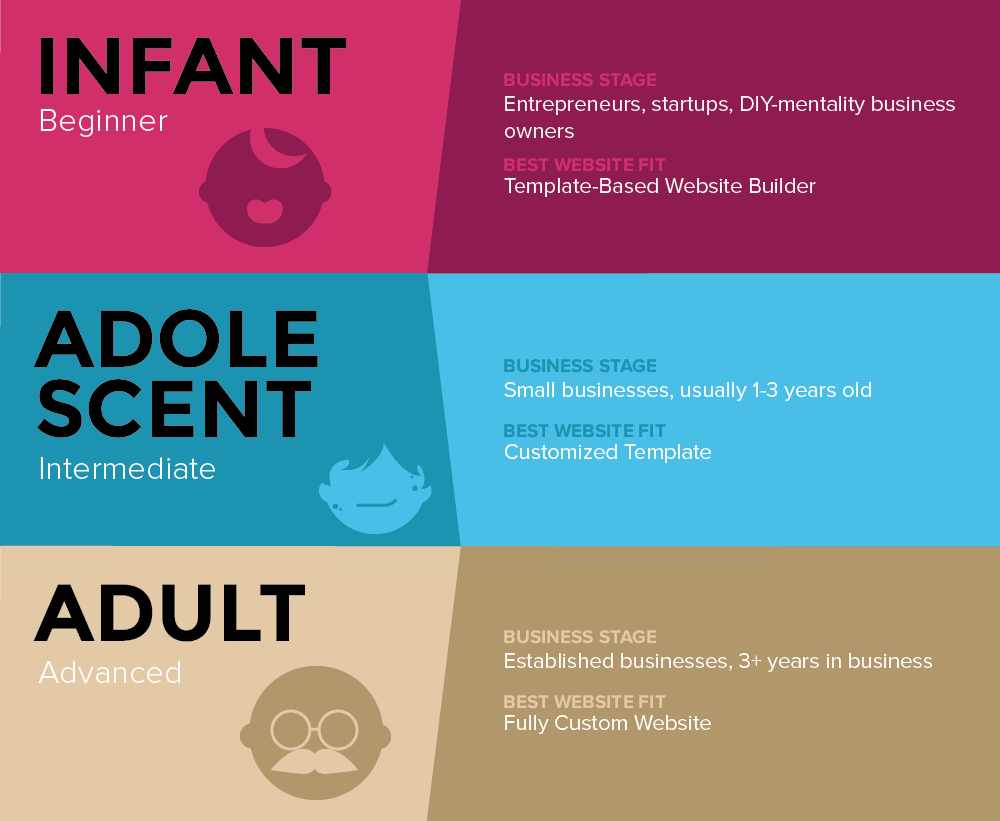 Now that you have an idea of what type of website pairs up with the business's age, let us explore the elements of these business stages further to give you a better idea of each.
Stages of Business
Infant (Beginner)
Type: Entrepreneurs, startups, DIY-mentality business owners
Budget: Small
Reputation: New to the market, not known - but want to be taken seriously
Adolescent (Intermediate)
Type: Small businesses, usually 1-3 years old
Budget: Medium
Reputation: Still not well-known but want a more robust website because they know that first impressions count; want the best quality they can afford without going over budget
Adult (Advanced)
Type: Established businesses, 3+ years in business
Budget: Biggest spending capacity
Reputation: Established brand (recognition and reputation), ready to create the full unique branded-website experience
Sometimes, businesses simply don't fit the mold and can choose the level of website design that fits best to their business needs, not their business age. This usually stems from explosive growth, substantial (or even viral) recognition, or a significant budget augmentation. Typically, however, the correspondence as laid out in the infographic holds true.
Even so, if your business has the flexibility or means of transcending stages, it would be useful to weigh your options, wouldn't it? Let's dive in.
Template (Website Builder)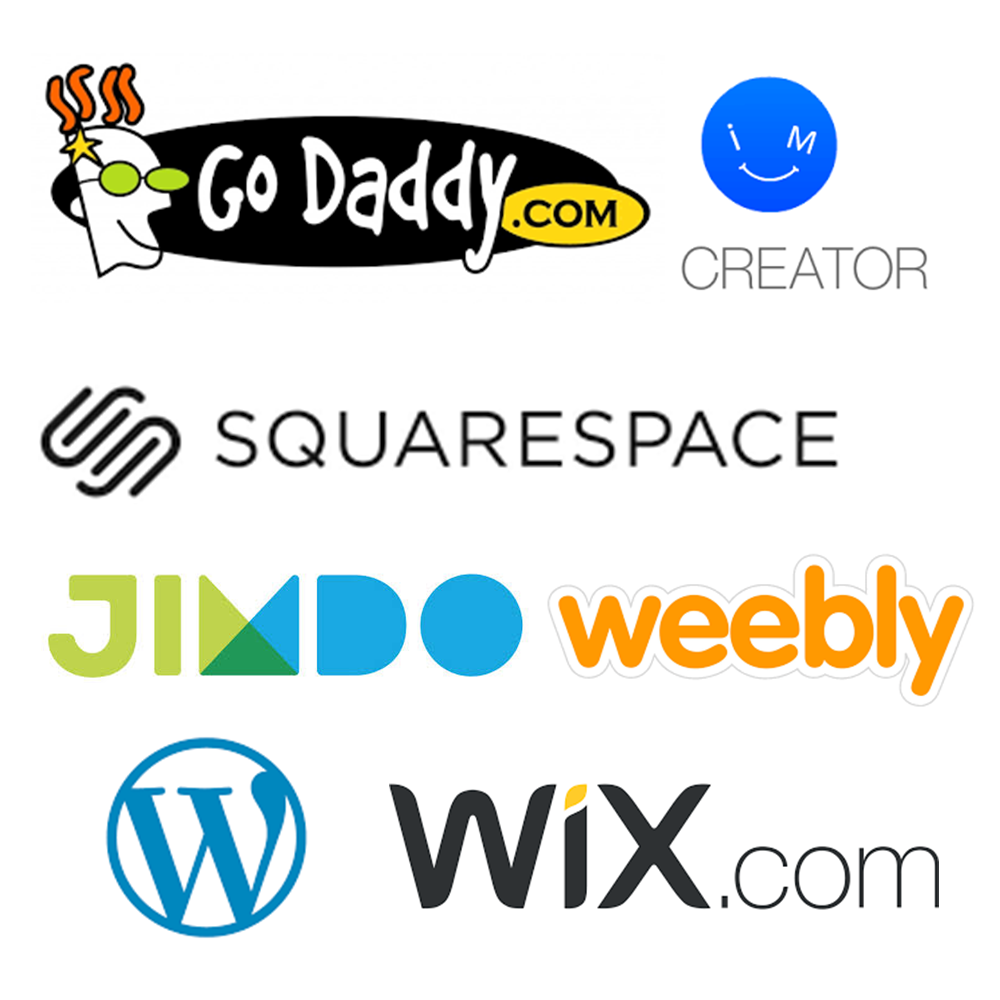 A website template is much like it sounds: a pre-designed web page - or pages - that is built with HTML and CSS code into which the user plugs in content (usually text and images) that makes it their own.
The most popular template-based website builders are WordPress.com, Wix.com, Squarespace, Weebly, GoDaddy, IM Creator, and Jimdo.
Of those, we recommend Squarespace because it's easy to use for any level of web expertise (or lack thereof) and is design-oriented, so it already looks great from the get-go.
You know those tacky, super-outdated-looking sites you sometimes stumble upon? Squarespace avoids that issue altogether by using professional designers when building templates.
Finally, Squarespace offers slightly more customization and caters better to specific industry needs by offering industry-specific categories to select from.
template-based Pros
No development time required
Pre-designed so there's no need to hire a designer or attempt it yourself 
Good way to learn the basics of web design elements, especially for DIY-style people
Easy to update, independent management 
Certainly better than having no website
TEMPLATE-BASED Cons
Not unique; you run the risk of other companies having a very similar website look
Little customization - unless you can code or spend money to have a developer change it
Depending on the template source, they are typically SEO-friendly, but you have to make sure for yourself by researching options
Templates may be made in antiquated code, which leads to browser compatibility issues
Little to no support available, and the support is not personal or one-on-one
If you're starting a luxury business (as an example), you won't be convincing with a non-luxurious website
If your business is new and running on a tight budget, it's wise to invest a small amount of your budget into a template-based website, which is why this option is best for infant-stage businesses.
The biggest pro is that you're out there on the internet with the competition, and the whole endeavor is totally doable for any non-developer, making setup and site updates simple and fast.
The biggest con, however, is that selecting a template takes research and knowledge of what elements your website needs to have, which takes some learning. Although having a website, in this day and age, is better than not having one, you run the risk of another company having an extremely similar look and feel to your site, which may be a dead giveaway that the site is not original and, as a result, cheap.
Depending on the business type, a certain level of quality is expected. For instance, a template would suffice for a consulting business, but as mentioned above, luxury brands cannot have a website where the look and feel doesn't match the brand message.
Customized Template
⚠️ Danger Zone ⚠️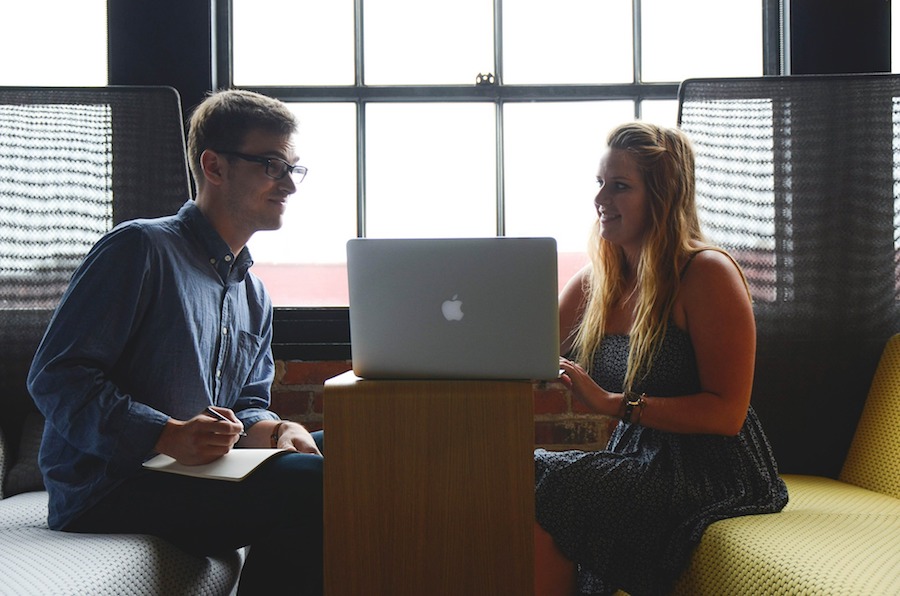 This option, taking a template from a CMS (content management system) and hiring a professional to customize it, is perfect for the adolescent-stage businesses: it's a good transition point where the company can make more of a unique mark online, yet still strives to mature to eventually having a total brand experience.
You know how every teenager ever complains about wanting to grow up already? Adolescent businesses are much like the teens in our lives, though without all the angst and rebellion - and acne.
But...why is this the Danger Zone?
Even though you're paying more than you would for just a website builder, this option is not fully custom, just customized. It's important to recognize and accept the difference in quality that will result. When using a customized WordPress template, the functionality is set: while you can style features to match the look and feel of the website, the function of those features is very difficult to change.
For instance, if you want an event registration feature on your site, the hired designer can install it as-is from a plugin, but if you want a special feature where people upload their company logo while registering, it would require more development and some reverse engineering of the feature to add the desired functionality. This takes extra time and effort, and sometimes, the feature may be so altered that it doesn't even work in the end.
Going forward with a customized template means acknowledging that you must be vigilant or trusting of the third party you hire and oversee the quality of the website all the way through. Ideally, this stage is a springboard for getting a custom website and should be a temporary stage.
Decisions, decisions...
There are two paths that can be taken at this stage: hiring a freelancer or a small agency, both of which specialize in WordPress templates.
Now, I know I rattled off a nice little list of template-based sites earlier, but there are reasons for sticking with the CMS WordPress.org in this stage instead.
It's the industry standard, first off, and a plethora of freelancers and agencies are highly familiar with the CMS, so it's easier to find someone to hire for customization.
Using a random, obscure CMS gets tricky because you can easily get pigeon-holed into having limited options in terms of freelancers or agencies who are familiar with and willing to use it. Not using a credible and established source like WordPress also requires researching the platform and making sure it's actually trustworthy.
customized template Pros
Already has most normal features a business website would need
Easily change the style - an experienced freelancer can create a highly customized look and feel
Slight customization of features - the extent is determined by the professional you hire
Freelancers or small agencies can help implement optimized keywords for better SEO
More unique and potentially higher quality than using just a template
customized template Cons
More expensive than just using a template-based website builder
Must be vigilant - some professionals promise a full custom website, then actually go off a template and overcharge
Sometimes half the code ends up getting ripped out of the template because it just has too much, wasting time and money
Customizability is limited by third party's skill level 
Even with industry categories, template may not exactly fit specific business needs - ie. missing custom sections or slightly having the wrong layout
User experience is limited by the structure of the template
Have to plan ahead because of template's limitations - it's only a short-term solution for companies that know they want to grow much more
High risk and trust required - have to guarantee that the freelancer or agency you hire has your best interests in mind and isn't going to rip you off or mislead you
Dependent on third party for updates, slower than doing it yourself
The list of cons is bigger than the list of pros, but don't fret: this is mostly because customizing a template requires trusting a professional and relinquishing your capacity to be in the driver's seat.
However, customizing a template is still a notch above just going off a template-based website builder, but not as pricey as going the full leap to a custom website. It's a safe and smart choice when planning the future of the business.
One of the biggest downsides: the project can go off-rails by breaking away from the template and adding too many features, which, at that point, you might as well just invest in a full custom website.
Fully Custom Website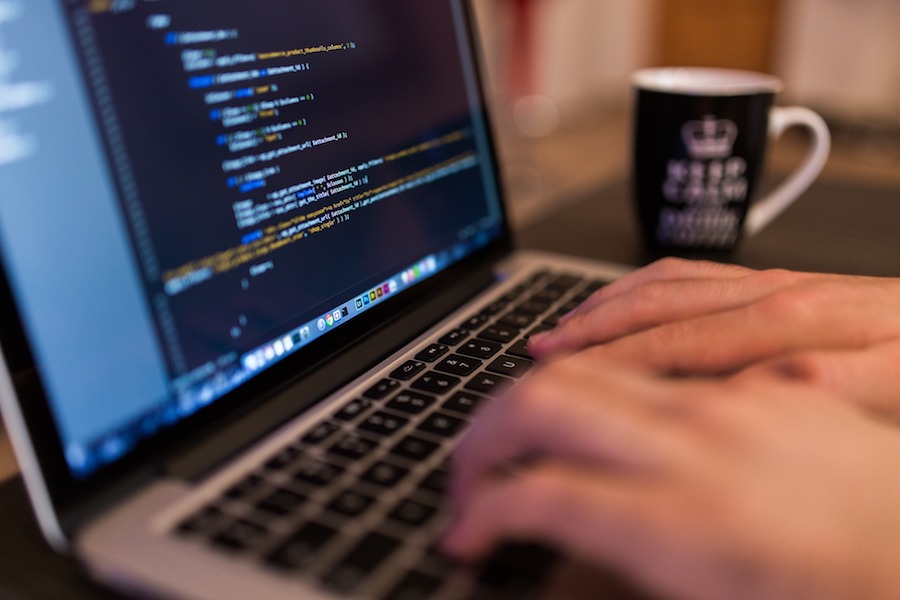 This is where web design agencies (hello!) come into play: you make a large investment, hand over the reigns to a website design team, communicate exactly how your unique website should look and function, then step back and watch as it gets built from the ground up.
This takes time, money, and trust, but the final outcome is that your business has a one-of-a-kind, branded website that delivers exactly the experience your customers are looking for. This is so important, because creating a website experience that's form-fitted to your customers' wants and needs will help increase sales, leads, and customers over the long run.  
"Adult" businesses benefit greatly from a custom website because they are matured, established, and can certainly afford to elevate their brand to the next level.
fully custom website Pros
100% unique to your brand
SEO friendly because built by a professional developer
Adaptable in any way you need
Scalable - as your company grows, so can your website
Built on a CMS that is trusted by the developer
Agency first determines how the site should work for your clients, then starts to build
Lots of support - every major step is authorized by business owner before any action is taken by web design team
fully custom website Cons
Changes or updates are fully dependent on the agency because of the complexity of the website, but you can still update small sections 
Significant amount of development time required since it's built from scratch
Charged for features (instead of features being included in bundle price of template)
The best part of a custom website is just that: it's yours, fully yours, and it provides the unique experience that your clients will most appreciate. In terms of reputation, it gives your business a much better one than if using a template that is recognizable as such.
While the price is higher than the other options, it's important to think of your site as an investment.
It's by far the best platform on which to tell your business's story, and it's likely to be the first experience your potential customer has with your brand. Therefore, having an awesome, unique, and high-quality website is the best way to make an outstanding first impression and set yourself up for success.