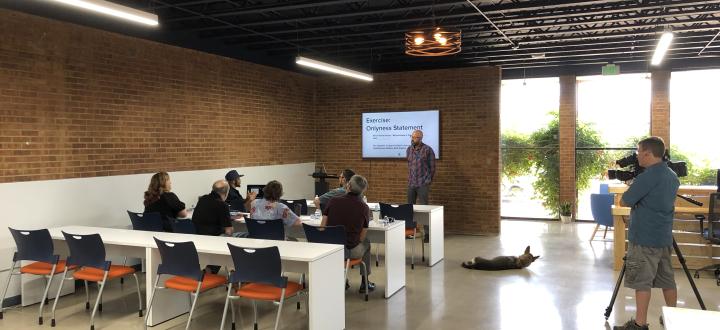 It seems like there is always some new digital platform demanding an entrepreneurs attention. One day your updating your Google Maps, then somebody starts talking about Snaps...  What's a busy business owner to do? It turns out, the modern digital landscape represents a huge opportunity for entrepreneurs. It's just a matter of understanding a few key principals, and learning how to apply them to your business. 
What you'll learn:
Learn why digital marketing is crucial to growing your business
An overview of the fundamental elements of digital marketing 
Learn the keys to having a great profile for each social network 
Get your digital marketing questions answered by an expert
Get expert advice on which platforms are best suited to your business
Upcoming classes
Get customers beyond your network.
For most small business owners, the number one source of new business is word-of-mouth. However, word-of-mouth alone rarely creates sustainable and predictable revenue, this is where digital marketing shines. When properly executed, digital marketing has the power to work for you, while you're busy running your business. 
How can it help your business grow?
The stats speak for themselves, in the modern world — digital marketing is marketing.
Studies show that between 70-80% of people research a company online BEFORE visiting the small business or making a purchase with them
Forester reports: Nearly 9 out of 10 consumers read reviews for local businesses before making a purchase
According to Clutch.co 80% of small businesses don't invest in content marketing, and experts warn that they are missing a key marketing opportunity 
Why Us?
Our mission is to empower entrepreneurs, and such, we strive to offer the best services that will benefit you in the long term. Work with professional agency-experienced designers and marketers that care about you, and the success of your small business.
Join the Herosmyth Revolution to Save Time & Money.
Herosmyth Revolution subscribers get exclusive discounts on our services including graphic design, marketing, and more. Best of all, our plans offer unparalleled flexibility, so you can experiment to find what works best for your business. Subscriptions start as low as $149 a month, so sign-up today!
Use Flex hours to book any appointment or service

Any unused hours roll over for one month, so you have flexibility when you're busy

Need more hours? Update your subscription at anytime!
Don't see what you're looking for?
We offer a variety of services and training, too many to put on our website. If you can think of something, chances are we know how to do it. Send us a message or call us, and we'll be happy to assist you.