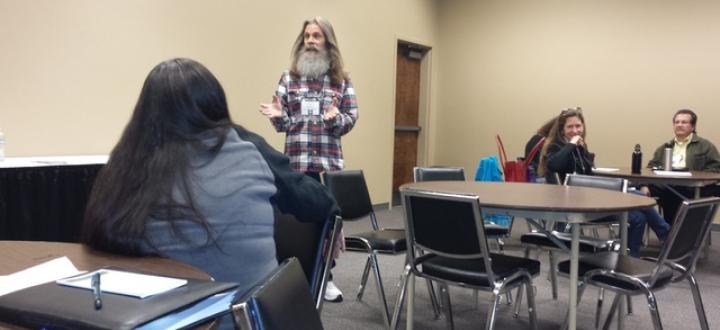 You must understand that the Entrepreneurial World is different than anything you've ever done in your life. Doing everything the way you always have will insure you will fail! The way you approach the entrepreneurial world has to be in a way you have never imagined looking at things before. Otherwise you will be one of the 90-95% that fail!
What you'll learn
Learn why you have you have to look at things in a different way than ever before.
Experience first hand how to look at things completely different than you ever imagined before.
Learn a simple framework that will help you get on track and stay on track no matter what challenge comes your way.
Experience the intangible aspects of being an entrepreneur that are critical to success.
Come away with how to start on the journey to become one of the 5-10%.
Upcoming classes
About Nigel Clayton
Nigel Clayton has the credentials of a Matter Certified Coach, Mentor, Consultant, Author, and a Certified Public Accountant. Nigel has been an entrepreneur for over 30 years and all of his clients have been entrepreneurs. He combines his experience, education, and extensive training in the business arena for over 30 years with real life experiences of being an entrepreneur to achieve quick results with his clients. He understands the entrepreneur and what it takes to make an entrepreneurial business successful!
Why Us?
Our mission is to empower entrepreneurs, and such, we strive to offer the best services that will benefit you in the long term. Work with professional agency-experienced designers and marketers that care about you, and the success of your small business.
Join the Herosmyth Revolution to Save Time & Money.
Members of the Herosmyth Revolution get exclusive discounts on services, studio space, training, and more. Best of all, our plans offer unparalleled flexibility, so you can experiment to find what works best for your business. Subscriptions start as low as $49 a month, so sign-up today!
Use Flex hours to book any appointment or service

Your hours roll over every month. If you don't use em', you keep em'.

Need more hours? Update your subscription at anytime!
Don't see what you're looking for?
We offer a variety of services and training, too many to put on our website. If you can think of something, chances are we know how to do it. Send us a message or call us, and we'll be happy to assist you.